What to Expect at Hickman Chiropractic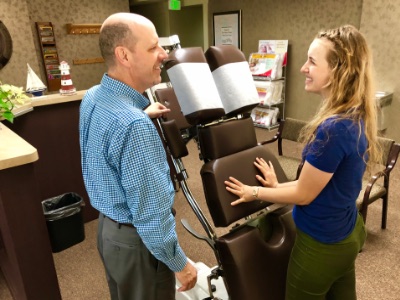 Our modern, spacious office will make you feel at ease from the moment you arrive. Our team is ready to warmly welcome you and start your healing. We know your time is valuable and keep your visits prompt.
How to Prepare
Please be sure you bring in your insurance card and a form of identification. You don't need to worry about wearing anything special; just come as you are and know that we'll take great care of you.
Let's Get Started
We'll ask you to fill out some short forms that tell us about your specific health concerns. Dr. Pat will introduce himself and discuss what's brought you in today. Then, we'll perform a comprehensive chiropractic spinal examination.
Dr. Pat will take the necessary X-rays of your spine. These images will allow us to see exactly what's happening in your body, so we can understand how best to help your specific problems.
Follow-up Visits
After Dr. Pat has thoroughly reviewed your examination findings and X-rays, you'll get a full, written report of his recommendations. We encourage you to ask any questions you have, and spend the time needed with you to address all your concerns. We'll also discuss financials with you on this visit.
You'll feel confident taking the first steps in starting your journey to health!
We'd love the opportunity to discuss how chiropractic can help you. Speak with us today to schedule your no-cost, no-obligation consultation!
---
New Patient Center | (715) 682-5656